Joined

Nov 20, 2021
Messages

162
Reaction score

211
Location
Went to Nashville last weekend, and had a great time. Main reason for going was to attend a concert for one of my ladies favorite bands, the Gaslight Anthem. I mentioned wanting to go to the Gibby Garage while we were in town. Since my lady loves guitars too, she was agreeable, and we went.
Pig on the street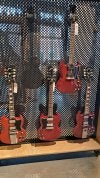 Pretty SG's. I didn't get a shot, but there is an overhead carousel of guitars that had some unusual finishes and colors. My lady fell in love with a Les Paul that had what they called a Watermelon Burst. Pink center, white border and green back. She talked about it for days.
As we were getting ready to leave the lead singer of TGA walked in. After these two ladies quit having a heart attack, we got a picture and a quick chat. Nice fellow, and the ladies floated on cloud 9 for the rest of the weekend.
The show was at the Ryman Auditorium. I was spellbound thinking of the history that has taken place there.
Bringing it back to our beloved SG's, Brian Fallon who we met earlier at the Gibson Garage shows up on stage with a new SG! Looks like a '64 Custom shop light aged. I could barely make out the finish checking in the light. It was hanging on the wall at the Garage in the Custom shop section when we went. Great weekend with my lady, and a great show.